May 2018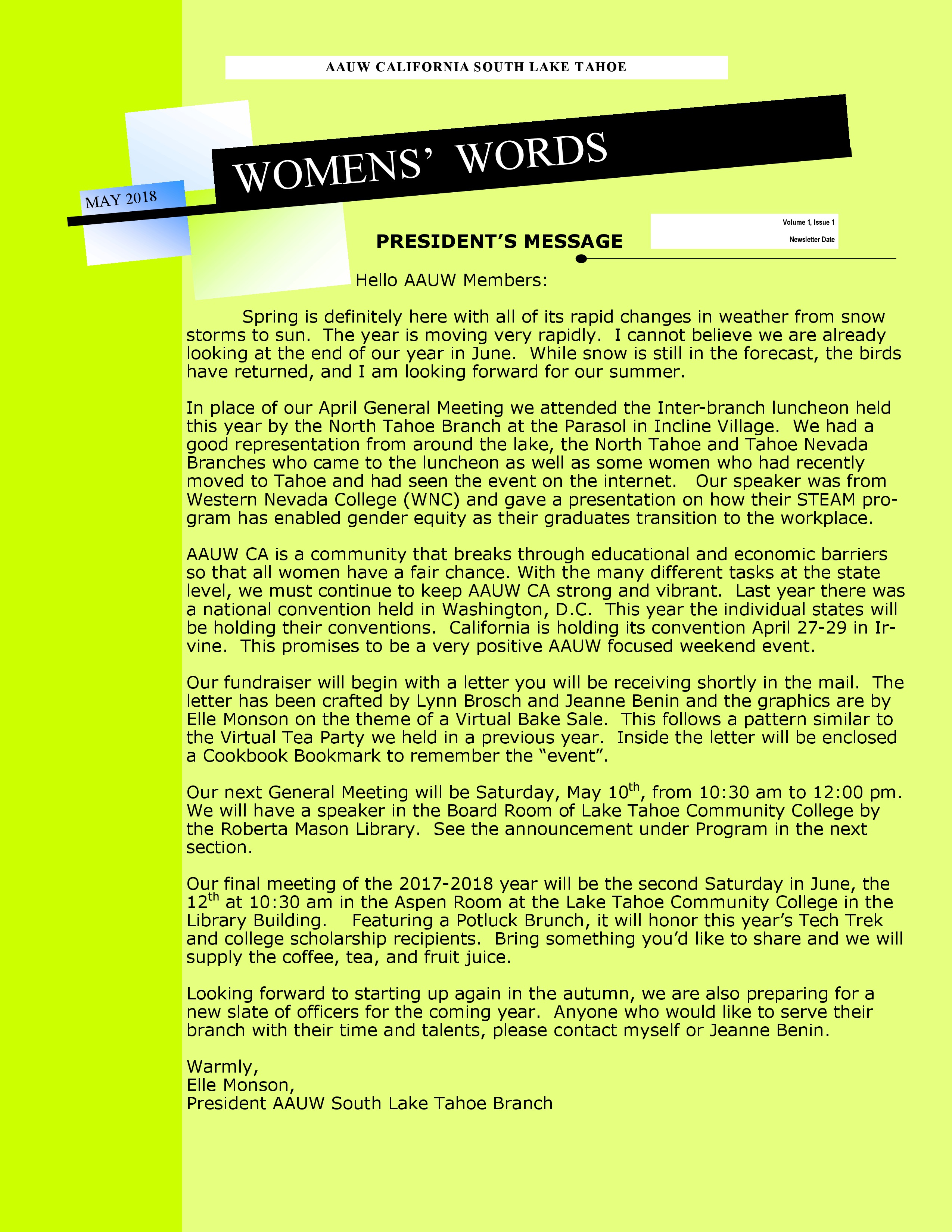 April 2018
Hello AAUW Members:
I heard some birds this morning outside. They did not sound like they were singing "Spring is in the Air". Winter is still here. The year is moving very rapidly. I cannot believe we are already looking at April.
Our February General Meeting focused on development plans for South Lake Tahoe. We want to thank our program team, Jeanne and Catherine, for arranging an excellent presentation. We had planned no meeting in March as this is the month in which many of our members are out of the area.
The Interbranch meeting on April 18 will be counted as our April meeting. All who are interested in coming, please let me know so I can RSVP the North Ta-hoe Branch as they will be providing a dinner, the cost is $35. All who wish to car pool please convey that to me also so we can make arrangements.
May will be a General Meeting in the Aspen Room at LTCC with an engaging speaker, details are in the Programs section of this newsletter.
The June General Meeting will be our annual Potluck when we meet our new scholarship recipients, both those at the college level and those who we will be sending to Tech Trek. The meeting in June will include the election of officers for the 2018–2019 year.
Currently, the board is seeking one of our members to step up to be the Nominating Committee Chair-person for the next few months. The duty of the Nominating Committee is to come up with a new slate of officers for the incoming years, 2018–2019, to start the board planning in August for the year to come which starts in September. The positions for next year are President–Elect, Treasurer (Finance), and Secretary. If you are interested in any of these positions please contact me at 775–580–7832, or  studioelle675@gmail.com. We would like to inform members of candidates for office 20 days before the slate is to be presented at the June meeting. Please inform us if you would like to serve in a position be-fore May 19.
AAUW CA holds a convention for its members every other year, to alternate years with the National Convention. The convention is being held from Friday, April 27 at 10:00 AM until Sunday, April 29. If you would like to know some of the offerings please look it up on the AAUW–CA website. Some interesting workshop names are Building self–esteem in girls, Alternative Board Designs and Leveraging Social        Media.
Save These Dates
• April 18 for Inter–branch and April 27–29 for the California Convention
• May 12, Richard Solbrig of South Tahoe Public Utility District
• June 9 for a Potluck and meet the Tech Trek and college girls scholarship winners
Warmly,
Marit Monsos
AAUW SLT President